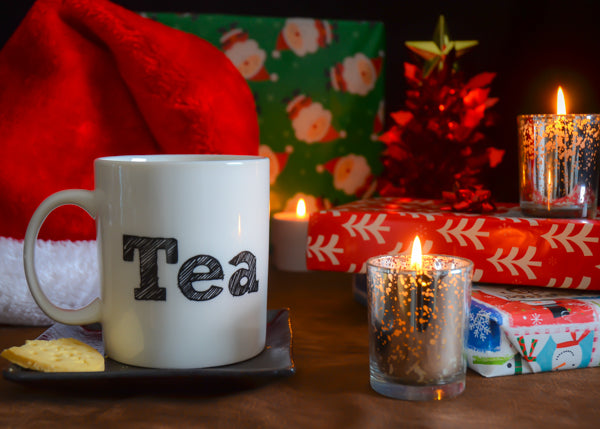 The 12 Days of Tea
The silly season is upon us and while some companies change the English Christmas carol "The 12 Days of Christmas" to promote products they're selling, I thought it would be fun to research how tea can also fit into the song.

a cup and saucer for tea
Chinese bowls influenced the design of teacups and the first ones had no handles. A saucer was originally a small dish for sauce, which is how it got its name. When used under a teacup people sometimes poured their tea into the saucer to cool and drink it, which today is considered uncouth. It's a faux pas to hold the cup with two hands and to not use the handle. You're also not supposed to lift the cup more than 12 inches off the table, the spoon is placed on the saucer behind the cup with the handle facing the same direction as the cup and you should never fill the tea to the rim. If you must have milk and sugar with your tea, sugar goes in the cup first and milk is added after the tea.
two leaves and a bud
It's the title of a book by Mulk Raj Anand, an American tea company and the inspiration for the name of this blog, two leaves and a bud is also the term used to describe the plucking standard for premium teas. However, it doesn't apply for every tea type. For the best white teas like Silver Needles only the downy buds are picked. For yellow teas only the buds are picked before they become downy. Because the leaves are more mature and larger, three leaves and a bud are picked for producing oolong. 
three black teas for blending
English Breakfast is a blend of three black teas: Assam (warm, smooth, malty), Kenyan (depth, good colour, fruity flavour) and Keemun (rich and smoky aroma with molasses flavour). When blended together the three black teas create a harmonious beverage that is so popular around the world that some people think English Breakfast is actually a tea type, like green or oolong. But it's not. It's a breakfast tea blend.  
four flushes of Darjeeling
Darjeeling is in the foothills of the Himalayas in India and is the only region outside of China where the Camellia Sinensis var sinensis prospers. A "flush" is new growth of tea on the tea bushes and flushes differ depending on the area that the tea is produced. The Darjeeling region has 5 distinct seasons: winter, spring, summer, monsoon, and autumn. This allows for unique growing conditions and results in 4 tea harvests– first flush (spring March-April), second flush (summer May-June), monsoon (July-October) and autumnal flush (early October to mid-November). The region is known for producing what has been called the "champagne of teas" and the teas from each flush are distinctive in their aromas and flavours.
five o' clock afternoon tea
Traditional high tea came about in England in the late 1700s. Served later in the day for working-class families, tea was a substantial meal of meats, bread and butter, fish or eggs, cheese, cake and tea. It was called high tea because of the high table on which it was served. The traditional time for tea was four or five o'clock and no one stayed after seven o'clock. Afternoon tea appeared nearly a century later and was a social event for women who enjoyed crustless sandwiches and pastries with jam and cream served on lower, ornately decorated set away from the main dining room. Today the two terms are interchangeable and many tearooms incorporate traditional high tea recipes into their afternoon tea service.
six famous mountains
Located in Xishuangbanna in Yunnan Province, China the six famous mountains are Gedeng, Mansa, Mangzhi, Manzhuan, Yibang and Youle. The climate and environment of this region create excellent growing conditions and a unique terroir that is known for producing the best puerh tea. When it come to puerh it is only produced in the Yunnan province and it is one of the oldest forms of tea.
seven cups of tea
When researching how the number 7 relates to tea I came across a poem by the Chinese poet Lu Tong called Seven Cups of Tea. Some also refer to the poem as Seven Bowls of Tea and there are different translations for the last line, but Wikipedia is a good reference.
eight treasures tea
Eight Treasures Tea or Ba Bao Cha is a Chinese elixir that is said to have many health benefits. The recipe varies depending on which dynasty it was made in and the ingredients that were available. An article in The Epoch Times lists the eight ingredients according to Li Shizhen, a Ming Dynasty doctor, as: Jasmine green tea, dried chrysanthemum flowers, goji berries, dried Chinese red dates, dried dragon eye (longan), licorice root, American ginseng and dried fruit.
nine steps for brewing
Several years ago an Australian news website interviewed Mr Twining and published an article on The nine steps to making a perfect cup of tea. While I don't agree with the steps, particularly step one that says to use fresh tap water, it's another perspective and fits with the lyrics.
ten famous teas
Also called China's Famous Teas the list varies depending on the source. Thankfully, Chinese-Tea.net has done the work to rank the Chinese teas by the frequency they appear on 20 different lists. Wikipedia also has two lists that slightly differ, but the general consensus is that Long Jing is #1. Also known as Dragon Well it is the "Princess of Green Tea in China". Dragon Well is produced by hand through a 10-part process and is renowned for its unique shape, emerald green colour and sweet floral taste profile.
eleven golden rules
I never imagined that George Orwell, English journalist and author of 1984, would fit into the "12 Days of Tea", but his A Nice Cup of Tea essay specifically states his eleven rules for brewing a perfect cup of tea that he regards as golden. My favourite is when he writes that "if you sweeten it, you are no longer tasting the tea, you are merely tasting the sugar; you could make a very similar drink by dissolving sugar in plain hot water." I agree.
twelve months of teapots
Every year for Christmas my mom and I give each other a wall calendar. The choices for tea-themed calendars are limited, so I usually receive The Collectible Teapot and Tea calendar that features beautiful photographs of vintage tea sets with details about its origin and history, and some months include famous tea quotes and information on tea treats that were served.
So now that you know the background behind the lyrics, it's time to sing it from the top (or the bottom, depending on how you look at it):
On the twelfth day of Christmas my true love sent to me:
Twelve months of teapots
Eleven golden rules
Ten famous teas
Nine steps for brewing
Eight treasure tea
Seven cups of tea
Six famous mountains
Five o'clock afternoon tea
Four flushes of Darjeeling
Three black teas for blending
Two leaves and a bud
And a cup and saucer for tea.
I think it's destined to become a classic Christmas carol. Well, in my household it is.